AI and Data Research Group
The AI and Data Research Working Group is a professional community of NHS/HE R&D and IG staff across the UK that meets online bimonthly. The focus of the group is the secondary use of patient data for research and technological innovation, such as AI development. In this rapidly evolving and expanding field, group members benefit from sharing experiences, best practice, documents and information about the latest guidance, policy and legislation.  In addition, the group aims to provide a collective voice for governance professionals to engage with relevant regulators including the HRA.
Topics the group has been exploring include defining data research/AI development in the NHS versus clinical activity; anonymisation (and the application of GDPR and confidentiality law); controller and processor arrangements; transparency and patient engagement; intellectual property and commercialisation; data linkage and Secure Data Environments. The group plans to deliver outputs in these topic areas.
Group Chair: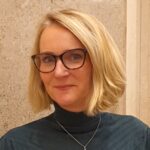 Berit Reglar
I am the new Chair of the AI and Data Research Working Group. I am the Deputy Director of Research Governance and Research Data Governance, as well as the Data Protection Officer at University Hospitals Birmingham NHS Foundation Trust. I am a qualified solicitor and have a special interest in regulatory/compliance matters. I have supported the Trust on numerous complex data projects involving academic and commercial partner organisations, ranging from projects to test and validate AI algorithm to local deployment of UKCA marked AI systems in the NHS. I provide legal support on a wide range of contracts across the RD&I portfolio. I am the legal lead of the West Midlands shared care record and have vast experience in data protection matters, including access to unconsented data for different secondary use purposes (service evaluation, audit and research).
Group Members:
TBA