RDF23 Conference Programme Development Group
The group develops the content of the programme for our annual conference. This conference is the flagship event of the year for research management, support and leadership in health and care and is UK wide.
Contact the group:
If you are interested in joining the group for the next conference please contact the Chair PCG@rdforum.org.uk
Group Chair: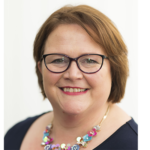 Dr Nicola Williams
Dr Nicola Williams is National Director of Support & Delivery, Health and Care Research Wales. She has been an active researcher for 20+ years, initially delivering research projects and programmes in primary care and public health. Prior to her role in Wales, she was Deputy Director of R&D in North Bristol Trust, and jointly established one of the Comprehensive Local Research Networks in England. In parallel, she has worked as a policy and change advisor to the Welsh and UK Governments, and Health Research Authority. She has been Chair of the Programme Content Group since 2016.
Group Members:
Allyson Bailey
Research and Development Officer
NHS Forth Valley
Jen Harrison
HRA Approval Change Manager
HRA
Shahista Hussain
Head of R&D Governance, Research & Development
Joint Research Office Oxford University Hospitals NHS Foundation Trust
Bernie Pearson
Head of Health and Social Care (HSC) R&D Governance, Northern Ireland
Angela Topping
Head of Newcastle Joint Research Office