The Forum is committed to building a programme of learning, training and development resources in research management, support and leadership for health and care to meet the needs of our community. All our open courses are currently offered as virtual courses and symposia.  Each course delegate receives a certificate and a printed workbook.
Our course leaders develop and maintain each course together with a reference group and experienced course trainers, ensuring all material is current and of high quality. Our teams are linked into policy groups and attend regulatory events wherever possible and material is constantly peer reviewed.
We are always developing new courses. If you would like to collaborate, propose a topic, lead a course, join a reference group or become a trainer then please get in contact with the chair of the learning and development group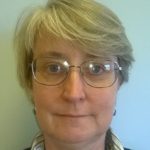 Heather Rogers
Heather Rogers is the Research Governance Manager at Liverpool University Hospitals NHS Trust. Her background is Cardiothoracic nursing and she has both been a Research Nurse as well as a Manager.
Her MSc was with the ICR in clinical research and she has facilitated ICH GCP and research courses both in the UK as part of the NIHR facilitators programme and abroad as part of a University of Liverpool initiative. Her current job is to assist in the maintenance of the Royal Liverpool CRU MHRA Phase 1 accreditation and to support research Governance for the Trust on all 4 sites as well as the Liverpool Health Partners.