#Red4Research brings together all those participating, supporting, and undertaking research. On the front line and behind the scenes incredible research teams collectively work on health and social care research. The R&D community is innovative, flexible and dynamic. Research doesn't just happen though, people make it happen – research participants, patients, professionals, volunteers and regulatory bodies all collectively working together.
In collaboration with the health and care sectors and voluntary organisations the R&D community has achieved a phenomenal amount. It has
improved patient outcomes
developed and delivered COVID-19 vaccines at an unprecedented speed
provided rapid diagnostics for community settings
evaluated a range of novel and repurposed therapeutics demonstrating that large platform trials are feasible
undertaken rapid evidence appraisals
changed clinical management, policies and guidelines
established rapid ethical review processes
streamlined and aligned regulatory approval processes
advanced the international research agenda
enhanced capacity building
provided real-time visualization of data to inform decision making
reduced research waste through coordinated research activity and data sharing
#Red4Research Day on Friday 16th June 2023 aims to get as many people as possible wearing red to demonstrate their support and appreciation for all those participating, undertaking and supporting research. It is an opportunity to showcase and celebrate the phenomenal work, learning legacy and innovative treatments/systems/techniques that have arisen from R&D.
#Red4Research Day began in 2020. It is not country, group or organisation specific but powered by the collective efforts. Research isn't undertaken by individuals working in isolation, it is collegial, made possible by people around the world working together. The #Red4Research campaign has been supported by people across the world in countries such as Africa, America, Australia, Chile, China, India, Italy, Malaysia, Spain, USA as well as the UK.
The #Red4Research concept is very simple. Wear something red, it can be any item of clothing, then download/print or make a placard saying #Red4Research, take a photo and post it on social media with the #Red4Research hashtag. 
It's all about positivity, creativity and support in the face of adversity. #Red4Research is completely inclusive – anyone, any age, anywhere can participate – children, adults, even pets! Hopefully people might have a bit of fun along the way raising the profile and work of all those involved in the process.
NHS 75
This year marks 75 years since the NHS was founded. #Red4Research is proud to celebrate 75 years of the NHS and how research is an integral part of practice.
Sally Humphreys – #Red4Research Day Founder
Chair of NHS R&D Forum RMWG, NHS Research Nurse, PhD Student at University of Hertfordshire
There are a number of resources free to download:
#Red4Research English Resources:
#Red4Research Video Background 
#Red4Research Welsh Resources:
#Red4Research Resources for Logos

A range of social media templates have been designed which enable you to add your own organisational logo and share across social media platforms like Facebook, Instagram and Twitter.
To use these:
Insert your photo behind the template
Add your logo and text on top of the template
Post on social media using #Red4Research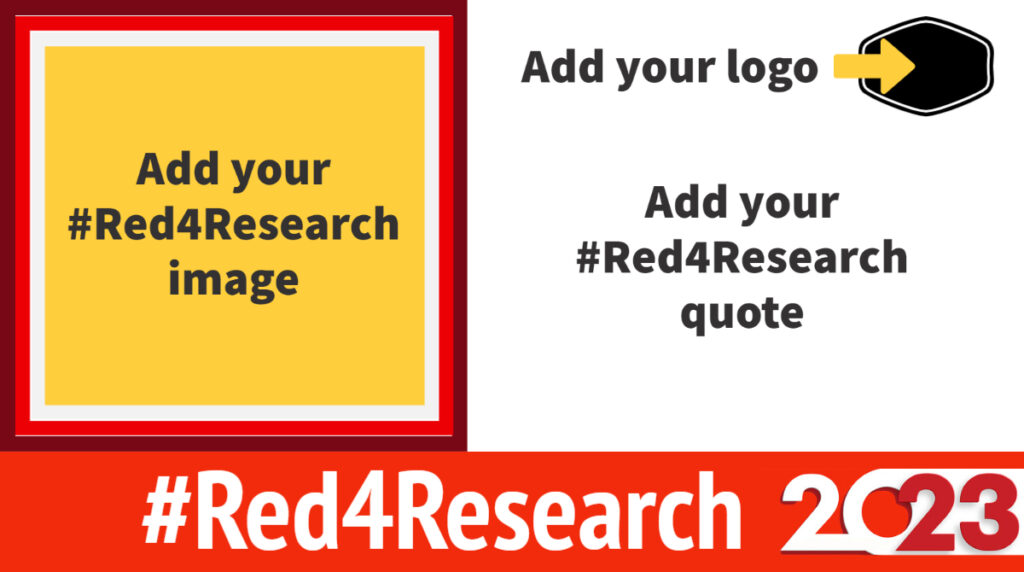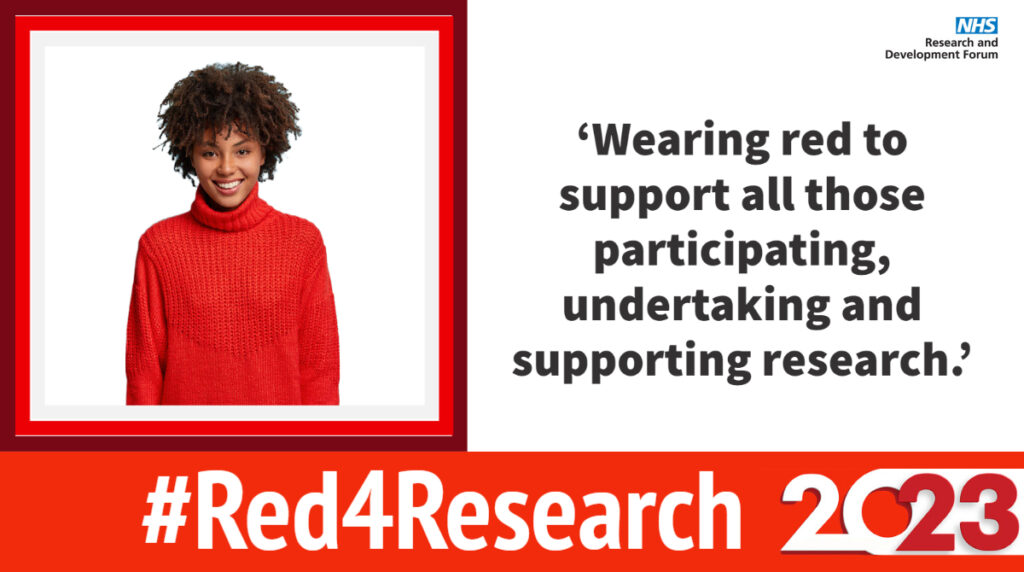 Making your social media accessible
#Red4Research aims to be an inclusive event.  When using the #Red4Research hashtag please capitalise the first letter of every word (CamelCase). This means that the words in the hashtag are read out correctly by screen readers. It also makes them easier to read for everyone else.
Each social media platform provides accessibility guidance to help make your social media accessibility friendly:
Facebook accessibility features
Instagram accessibility features
Twitter accessibility features
Lighting Up Red
This year we are very excited that a number of landmarks and iconic buildings across the nations will light up red in support of #Red4Research. The wave of red light starts in the south with the Spinnaker Tower in Portsmouth on the evening of Thursday 16th June. On Friday 17th June the wave will then move north with other landmarks including:
Cardiff Castle
Civic Town Hall, Trowbridge
Derry City and Strabane District Council Building
Falkirk Wheel
Gateshead Millennium Bridge
St Mary's Lighthouse
Sunderland City Council (Northern Spire, Hylton Castle, Penshaw Monument and others)
Tavistock Town Hall
The Kelpies
The Mersey Gateway
Witney Town Council
And more…